Choice Disabled Veteran Plates
Starting July 1, 2011, if you qualify for a Disabled Veteran plate you may also qualify to choose one of the following types of plates:
Prisoner of War
National Guard (Army or Air)
Pearl Harbor Survivor
Purple Heart Recipient
Military Plate (Army, Navy, Air Force, Coast Guard, Marine Corps or Merchant Marines)
Gold Star
Disabled Veteran Plates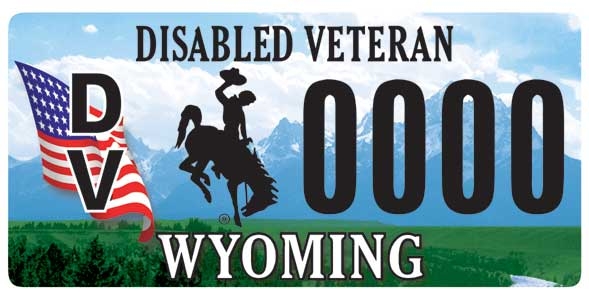 One set of license plates shall be issued to disabled veterans who provide an affidavit from the Veteran's Administration stating they receive 50 percent or more service-connected disability compensation from the VA. Disabled veterans are exempt from registration fees for 1 vehicle, other than a bus or motor home.
General Provisions
1. The vehicle must be titled in the name of the applicant, or may be joint ownership with a member of the immediate family.
2. All applications for special license plates shall be made directly to the county treasurer at least 60 days before registration of the vehicle expires.
3. All special license plates are issued once in an eight-year period and must be renewed annually not later than the last day of the annual registration month.
4. Renewals are accomplished at the county treasurer's office.
5. Upon transfer of ownership of the vehicle to which the plates were issued, the registration expires and the plates must be removed.
6. After acquiring another vehicle, application may be made to transfer the license registration number to the newly acquired vehicle.
7. The county treasurer will forward two copies of the approved application to WYDOT, which will indicate the assigned plate number and return a copy of the application and the plates to the county treasurer.
Contact:
WYDOT Motor Vehicle Services
Disabled Veteran Plate Application