Safe Winter Driving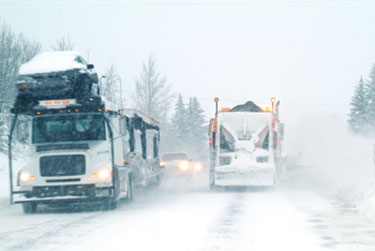 Winter storms can develop quickly and without warning across Wyoming's high plains and mountains, so it's important for drivers to prepare themselves and their vehicles for any conditions they might encounter on the road.
Make sure your tires are inflated to the recommended pressure and your brakes are in good working order. Replace old windshield wiper blades and add windshield antifreeze to window cleaning fluid. Keep the fuel tank full, and check all the other engine fluid levels. Make sure your headlights, taillights and turn signals are functioning properly.
Keep all lights free of ice and snow, and use low beams when driving through blowing snow. Make sure all your windows and mirrors are clear before starting your trip, and remember to clean snow off your shoes before you get in the car, because slippery accelerator and brake pedals are a safety hazard.

Check road and weather conditions before you leave by dialing 511 or going to the 511 Travel Information Web page .
Always buckle your seat belt before hitting the road, and once out on the highway, adjust your speed for conditions.
More winter driving tips and recommendations for a winter survival kit to carry in your vehicle are included in WYDOT's Winter Wheelin' in Wyoming brochure.