Frequently Asked Questions
What is the Essential Air Service Program (EAS)?
In 1978, believing that market competition among airlines would improve service and lower fares for the traveling public, Congress passed the Airline Deregulation Act of 1978. This landmark legislation eliminated federal controls over domestic fares and routes served and allowed market forces to determine price, quality and quantity of domestic commercial air service.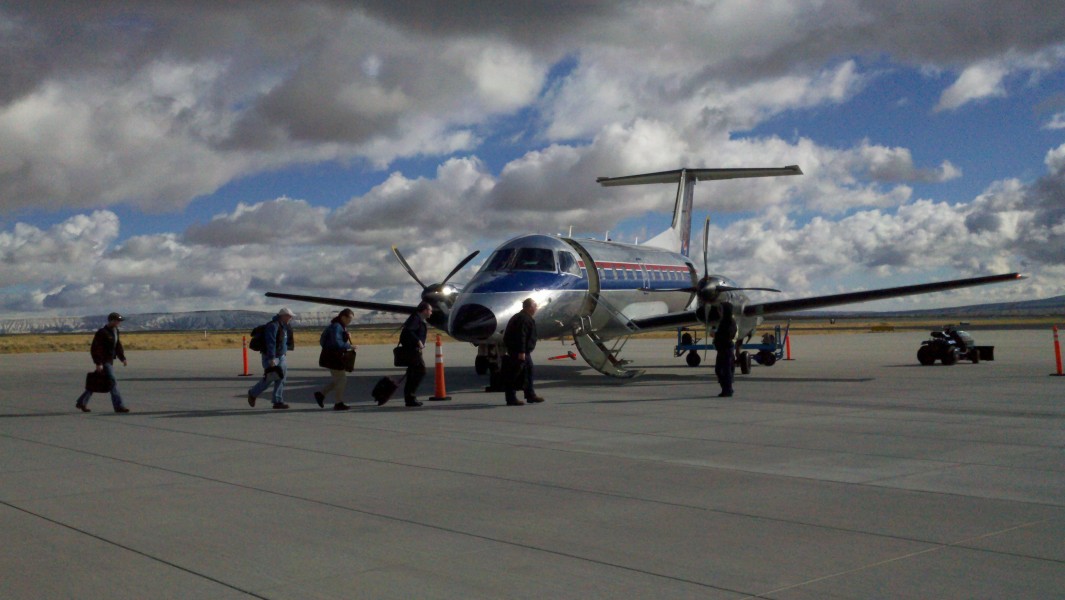 Since the passage of the Airline Deregulation Act, aviation has become an essential form of travel for much of the nation. The number of commercial air travelers has grown dramatically, from 312 million travelers in 1980 to 760 million in 2014, an increase of 143 percent. Overall, airline deregulation has brought lower prices to the majority of large markets around this country. However, many small and medium-sized communities have struggled to obtain and retain commercial air passenger service, because they often lack the population base and economic activity to generate the passenger traffic necessary to make air service consistently profitable. Even if a community is large enough to sustain a basic level of service, it may still have difficulty attracting more than one or two air carriers to provide consumer choice or low fare competition.
Prior to deregulation, air carriers' certificates generally required carriers to schedule and provide two daily round trips at each point on their certificates. The prospect of allowing carriers to terminate scheduled service without prior government approval raised concern that communities with lower traffic levels would lose service entirely, as carriers shifted their operations to larger, potentially more lucrative markets.

Under the EAS program, DOT determines the minimum level of service required at each eligible community by specifying a hub through which the community is linked to the national network; a minimum number of round trips that must be provided to that hub (typically two daily round-trip flights, six days per week); certain characteristics of the aircraft to be used; and the maximum permissible number of intermediate stops to the hub. Where necessary, the department pays a subsidy to a carrier to ensure that the specified level of service is provided. Most certificated points do not require subsidized service. The highest number of communities subsidized during the program's history was 405 in 1980. As of April 1, 2015, DOT was subsidizing service at 160 communities (44 in Alaska and 116 elsewhere in the U.S.). On Feb. 14, 2012, the president signed the "Federal Aviation Administration (FAA) Modernization and Reform Act of 2012" (Public Law No. 112-95), which contained several additional reforms. First, the law capped the communities in the 48 states plus Puerto Rico that are eligible to participate in the program. The law states that only those communities that were receiving subsidized EAS at any time between Sept. 30, 2010, and Sept. 30, 2011, or that received a 90-day notice from their incumbent carrier, would remain eligible for the program. Therefore, no new communities can enter the program should they lose their unsubsidized service even if they had previously participated before September 2010. Secondly, the law requires that in order to remain in the EAS program, beginning with fiscal year 2013, subsidized communities must maintain an average of 10 passenger enplanements per service day.
Which Wyoming communities participate in the Essential Air Service Program?

Cody, and Laramie. Worland formerly participated but became ineligible for EAS funding as of October 1st, 2016.

Why do airfares in Wyoming seem so high when compared to Denver or Salt Lake City?

Airline pricing is driven primarily by supply and demand. Since most Wyoming communities are smaller, they lack the competitive atmosphere of places like Denver or Salt Lake City. For example, between 2000 and 2016, Denver's average air fare decreased about 20 percent compared to Wyoming's virtually unchanged average air fare. Wyoming, however, has fared better than the national average which has increased 12 percent over the same time period. Like most smaller communities without a significant population base and subsequent demand, airlines are averse to serving such airports as these markets typically carry larger risk.
What are codeshare agreements?

Codeshare agreements are marketing and operating agreements between two carriers, usually a legacy carrier and a smaller, regional partner, in which they coordinate flight schedules, frequent flyer programs, airport facility locations and pricing activities between each other. Codeshares allow larger carriers in hub airports have services to smaller communities they would not otherwise fly to and do it under their marketing brand identity. Codeshare arrangements typically allow for through-pricing through a hub to the larger carrier's markets at a lower price than what would otherwise be available through a combination of local fares. Ticketing on codeshares is also handled, typically, by one carrier as to provide for a seamless transaction for the consumer.
What are the different types of marketing arrangements between the carriers?

There are typically three different agreements between air carriers:
Codeshares, which are generally "at risk" flying for the regional partner. This means that both the regional carrier as well as the legacy, dominant airline must each be responsible for their own flight profitability. These types of agreements allow other carriers to market a flight operated by a different carrier. An example would be United Airlines marketing a flight from Denver to Riverton as a United flight number.
Fee for departure agreements: In the case of a fee-for-departure arrangement, usually the dominant carrier pays the regional carrier a contracted rate to fly to certain cities because it can do so more affordably than it can on its own. In this sort of an arrangement, the larger carrier takes the risk of generating sufficient revenue to cover the costs associated with the arrangement it has with its regional affiliate. Similar to the above, these flights also involve a type of agreement where one airline may market the flight even though it is operated by another carrier. A current example of this is SkyWest Airlines flying from Chicago O'Hare to Cody during the summer months.
Comprehensive marketing alliances, where by carriers such as United and Lufthansa have entered into partnerships that include collective pricing, reciprocal frequent-flyer partnerships, shared airport lounges, ground handling agreements and even shared revenue risks associated with certain types of flying arrangements. These agreements are usually much more sophisticated and more complex in nature, but ultimately offer the most in consumer benefits. An example would be a flight from Denver to Jackson being operated by United Airlines as flight number 470 is also marketed by Lufthansa as flight 9414 with the ability to earn reciprocal loyalty miles and usage of the other airlines airport lounge.

An example of a codeshare between United and Great Lakes Airlines. The flight can be marketed and sold by United but is operated solely by Great Lakes.

How safe is flying and are there any differences between larger jets and smaller turbo-prop planes?

The most dangerous part of air travel is quite literally getting to the airport safely. People are much more likely to be involved in an accident falling out of bed, being stung by a bee or walking their dog then they are flying. All aircraft that fly the skies of Wyoming are under the same Federal Aviation Administration (FAA) programs for maintenance and safety. Other than passenger amenities and speed, there are generally no differences in aircraft used for commercial air transportation.

What are the benefits of Air Service to Wyoming?

Air service brings about many positive aspects to Wyoming. Our diverse geography requires, and our air services enable, the quick and efficient transportation of passengers and goods from across the state with direct links into the national transportation network. In addition to the transportation of passengers and cargo services, commercial aviation in Wyoming directly or indirectly adds 10,012 jobs and a $1.1 billion impact within the state on an annual basis, according to the Wyoming Aeronautics Division 2013 Economic Impact Study.

How is the state government supporting Wyoming air service?

In 2004, the Wyoming State Legislature passed into law the Air Service Enhancement Program (ASEP). Under this program, the Wyoming Aeronautics Commission is granted $1.4 million on an annual basis to be used in support of air service initiatives. These initiatives require a community match and include such things as facility enhancements, incentives directly to the airlines, marketing funds used to advertise air services, or to attract new air carriers to the state.