Wyoming Aviation Hall of Fame...
The Wyoming Aviation Hall of Fame is a nonprofit, publicly supported, tax exempt organization dedicated to honoring individuals who have made outstanding contributions to the establishment, development, and/or advancement of aviation in Wyoming. The Hall of Fame was established in 1995 through efforts of R.R. "Red" Kelso, a veteran Wyoming pilot. The first four honorees were inducted in 1995. Since 1995, one nominee has been inducted annually.
The Aeronautics Commission selects the new inductee each year from the nominations submitted by the Wyoming Aviation Hall of Fame. The number of inductees is limited to enhance the honor of being selected.
The Wyoming Aviation Hall of Fame also collects aviation historical artifacts for display to educate the public on Wyoming's significant role in aviation's early days. The Hall of Fame centerpiece display case is currently located in the Cheyenne Airport Terminal building and houses a wide selection of early Wyoming aviation memorabilia. The Wyoming Aviation Hall of Fame also maintains an archive including pilot biographies, which is available for researchers.
The Wyoming Aviation Hall of Fame is dependent upon individual contributions to finance its operations.
Anyone wishing to submit a nomination may obtain an application package by contacting John Waggener, president of the Wyoming Aviation Hall of Fame. Tax exempt contributions may also be sent to the following address:
Wyoming Aviation Hall of Fame
Attn: John Waggener
1000 E. University Ave., Dept. 3924
Laramie, WY 82071
2015 Inductee Information...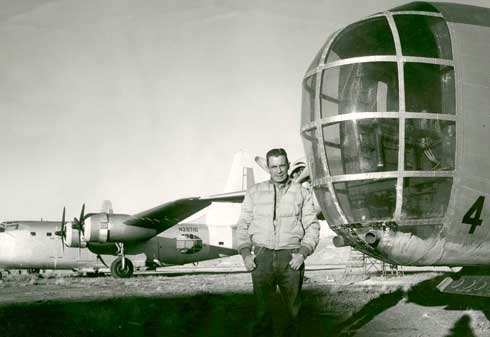 (Mr. Morris Avery Named 2015 Inductee Into Wyoming Aviation Hall of Fame)
Morris Avery, one of Wyoming's first helicopter pilots and a pioneer in aerial spraying, firefighting, search and rescue and mountain flying, is the 2015 inductee into the Wyoming Aviation Hall of Fame.
A ceremony to honor his accomplishments and induction was conducted at the Greybull Airport on Sept. 18.
Born in Greeley, Colo., in 1913, Avery completed his schooling in Cody and moved to Greybull in the late 1930s. There he began taking flying lessons from Mel Christler, the 1999 Hall of Fame inductee, and earned his pilot's license in 1946.
In 1949 they formed Christler and Avery Aviation in Greybull, purchasing a surplus Douglas B-18 bomber and converting it into an agricultural sprayer. It also was retrofitted to haul ore from a uranium mine in the Big Horn Mountains.
In 1958, the company expanded its capabilities with the purchase of a Bell 47 helicopter. As testament to his natural flying abilities, Avery completed his flight training at the Bell facility in Texas in an astonishing five days. He flew the helicopter to Greybull marking the beginning of the commercial use of helicopters in Wyoming.
He used the helicopter in numerous challenging applications, such as mountain construction and the setting of power poles in rough terrain.
Late in 1958, the company purchased four World War II-era Consolidated PB4Y-2 Privateers from the U.S. Coast Guard. A variant of the B-24 Liberator, the large four-engine bombers were retrofitted for aerial firefighting, making Christler and Avery Aviation among the early companies to contract with the U.S. Forest Service to use large aircraft to fight forest fires.
Avery purchased Christler's share of the company in 1960 and changed the name to Avery Aviation. Aerial firefighting continued to be a major part of the company's business, but it also provided nonstandard aerial services, including setting the steel for the tram towers at the Jackson Hole Ski Area in Teton Village in 1964, cloud seeding, mosquito and sagebrush spraying, and dropping dynamite on the Big Horn River to break up a massive ice jam.
Avery was committed to the residents of his community and found great joy in delivering Santa Claus from the North Pole to the children of Greybull each Christmas season for many years.
In 1961, Avery ventured into commercial aviation, founding Sage Airlines to provide passenger service to Casper from numerous northern Wyoming towns.
He died in 1965 due to complications following leg surgery. At the time of his death, Avery Aviation was considered to be the largest private flying service in the nation, with a fleet of historic aircraft dating back to the 1930s.
His wife, Reba, continued to operate the company with the assistance of employees Gene Powers and Dan Hawkins. She sold the company to them in 1969, and it continued to operate for decades as Hawkins & Powers. The flight operation site now serves as a museum where numerous aircraft remain on display.