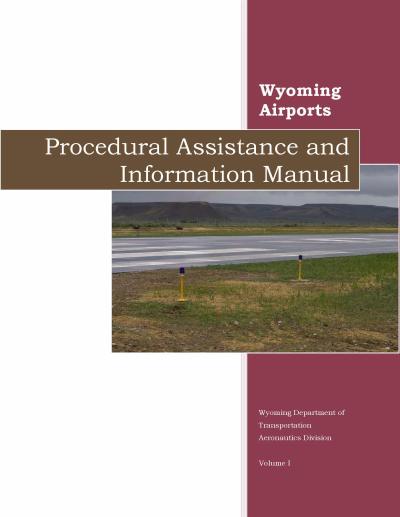 The Wyoming Airports Procedural Assistance and Information Manual - Part I General Procedures
This Manual has been developed to assist airport personnel, local governments and consulting firms in doing business with the Wyoming Department of Transportation's Aeronautics Division. Part I may be found here.
The General Procedures are now open for a 60 day public comment period. Additional sections of the manual will be posted and open for comment when they become available. Go to the Rules & Regulations and Policies page under the Navigate bar to review and comment.
Useful Links
2013 Wyoming Airports Economic Impact Study:

In late 2013, the Aeronautics Division of the Wyoming Department of Transportation (WYDOT) completed an important research project to investigate the value to the state from airports and airport supported services.

To determine potential benefits associated with the 35 public-use commercial and general aviation airport in Wyoming, outreach to each airport was completed. This outreach included:

Surveys of 4,000 travelers using commercial and general aviation airports

Direct mailings to 400 businesses

Contact with 30 statewide agencies and organizations

Contact with 50 chambers of commerce and economic development groups

Distribution of an online survey link via 40 media/news outlets

Results of the outreach clearly show that residents and businesses, and visitors do indeed benefit from Wyoming airports.

The summary of the benefits identified, the entire Economic Impact Executive Summary, and all of the different reports generated from this study can be found here.


_________________________________________________________________________________________________________________

Aeronautics Division:

200 East 8th Ave.
Cheyenne, WY 82001
Telephone No.: (307) 777-3952, Fax No.: (307) 637-7352

Main Aeronautics Division Contacts:

Dennis Byrne, Administrator – (307) 777-3952

Katie Pfister, Executive Assistant & Commission Secretary – (307) 777-3952

Tory Meisel, Flight Operations Manager – (307) 777-3955

Tess Smith, Flight Scheduling – (307) 777-3951

Christy Yaffa, Planning and Programming Program Manager – (307) 777-3956

Cheryl Bean, Engineering & Construction Program Manager – (307) 777-3960

Sheri Taylor, Air Service Development Program Manager – (307) 777-4360

Complete Aeronautics Division Contacts Listing:

WYDOT Aeronautics Division personnel work in conjunction with members of the Aeronautics Commission to support aviation and publicly owned airports in the state.

___________________________________________________________________________________________________

Schedule a Flight:

To Schedule a flight on the state plane - Please see the Flight Operations Program.