Driver Services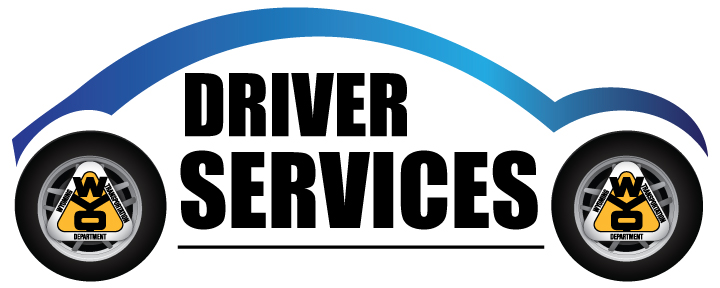 This is the official Wyoming Driver Services Program website, please be aware of imitator websites like DMV.org, DMV.com, and dmvdriverlicenses.org who are not affiliated with state government.
For more information, see the

Navigate

column to the right.
For immediate assistance, please call Customer Service at 307-777-4800. The Customer Service desk is open Monday-Friday 8 a.m. to 5 p.m., closed holidays. For Exam Station Location hours click here.

Mailing address for all driver license issues and renewals:
Driver Services
5300 Bishop Blvd.
Cheyenne WY, 82009
There is no exam station at this address. For Cheyenne driver license exams go to:
Drivers with Learner's Permits may drive in Wyoming as long as they are adhering to the restrictions associated with the permit they hold. Example: If the permit you hold requires another licensed driver to sit in the seat next to you when you are operating a motor vehicle, that restriction applies in Wyoming.
Drivers with licenses issued from another country may drive in Wyoming as long as they have a valid driver license from their country. An International Driving Permit is recommended but not mandatory. This permit translates your driver license, so if needed, the proper authorities will be able to ascertain the information on your driver license.
Drivers whose driving privileges are denied, suspended, cancelled or revoked in any state are in violation of Wyoming law if they operate a motor vehicle on Wyoming roadways.
Drivers who are ticketed with moving violation convictions will not have these violations recorded in Wyoming, the convictions are sent to the driver's home state for their disposition. Additionally, convictions for driving under the influence and other alcohol or drug offenses may result in the withdrawal of driving privileges both in Wyoming and in the state in which you are licensed.
CURRENT LAWS AFFECTING DRIVERS
Traffic Laws
:
Wyoming Traffic Law Summary
is a summary of current laws passed by Wyoming's state Legislature. If you have any questions about these laws, please contact Customer Service at 307-777-4810.
Real ID Requirements
: In addition to surrendering your current license or ID card, when applying for or renewing a Wyoming Driver License and/or Identification Card, you must prove your full legal name, identity, age and lawful presence in the United States. A list of acceptable documents to comply with this requirement is available under the
General Information
page.
Contact Driver Services via Email
Click a link below to send an email inquiry to Wyoming Driver Services.